It's been exactly one month since I set out to build CyanogenMod 7 for the Huawei U8150. In that time I've learned a lot about compilers, git, CyanogenMod, and Android in general. Last night support for the U8150 was merged into the official CyanogenMod git repositories.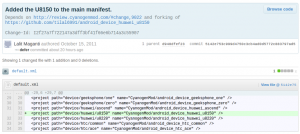 Once the port is stable there will be "official" support for the device. Right now it's only me and tilal6991 working on it, but there have been a few other developers chipping in from time to time since mid 2011 (namely koush and marcnvidic). CyanogenMod really is by the people, for the people (unofficial slogan, coined just now by me).
If you want to keep up to date you should follow me on twitter and check out the CM7 U8150 thread on XDA Developers.